El Chalten
By now feeling better and into Patagonia 'proper' – interrupted by a trip to El Chalten hospital for a suspected infection. Doctor speaks no English and my Spanish is extremely limited – conversation was reduced to me pointing to inflamed area:
'Infection'?
Doctor – 'Si'
'Antibiotic'?
Doctor 'Si'
Doctor ' Penicillin OK'?
'Si'
Doctor then managed to convey – if not better in 4 days you must get medical help!'
'Si!'
Then we hit the trails around El Chalten with occasional views of Mt Fitz Roy through the gaps in the clouds.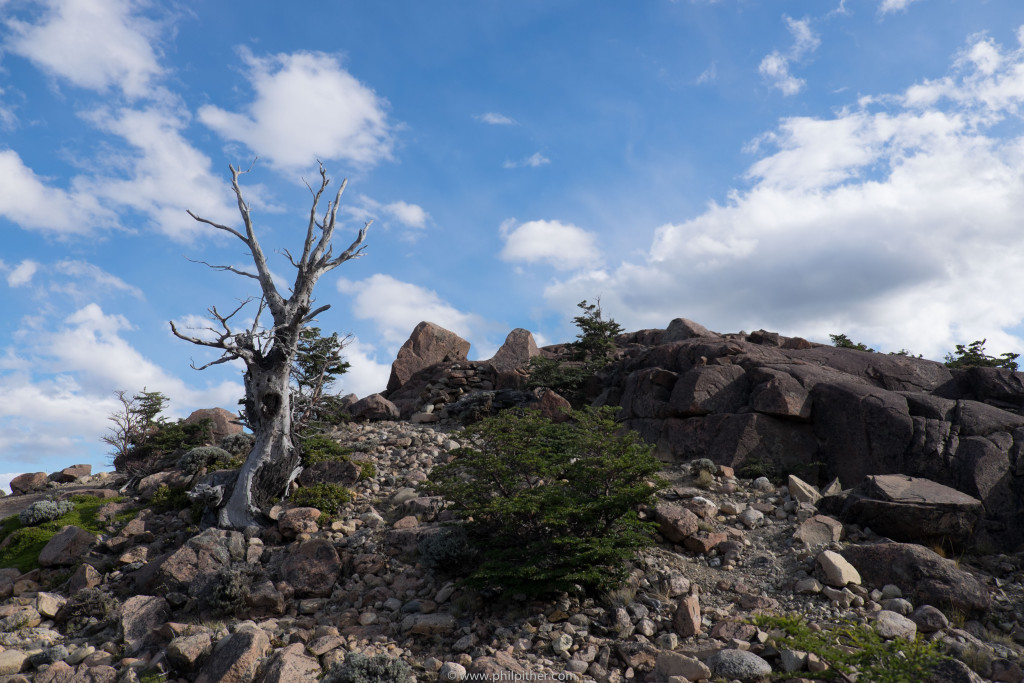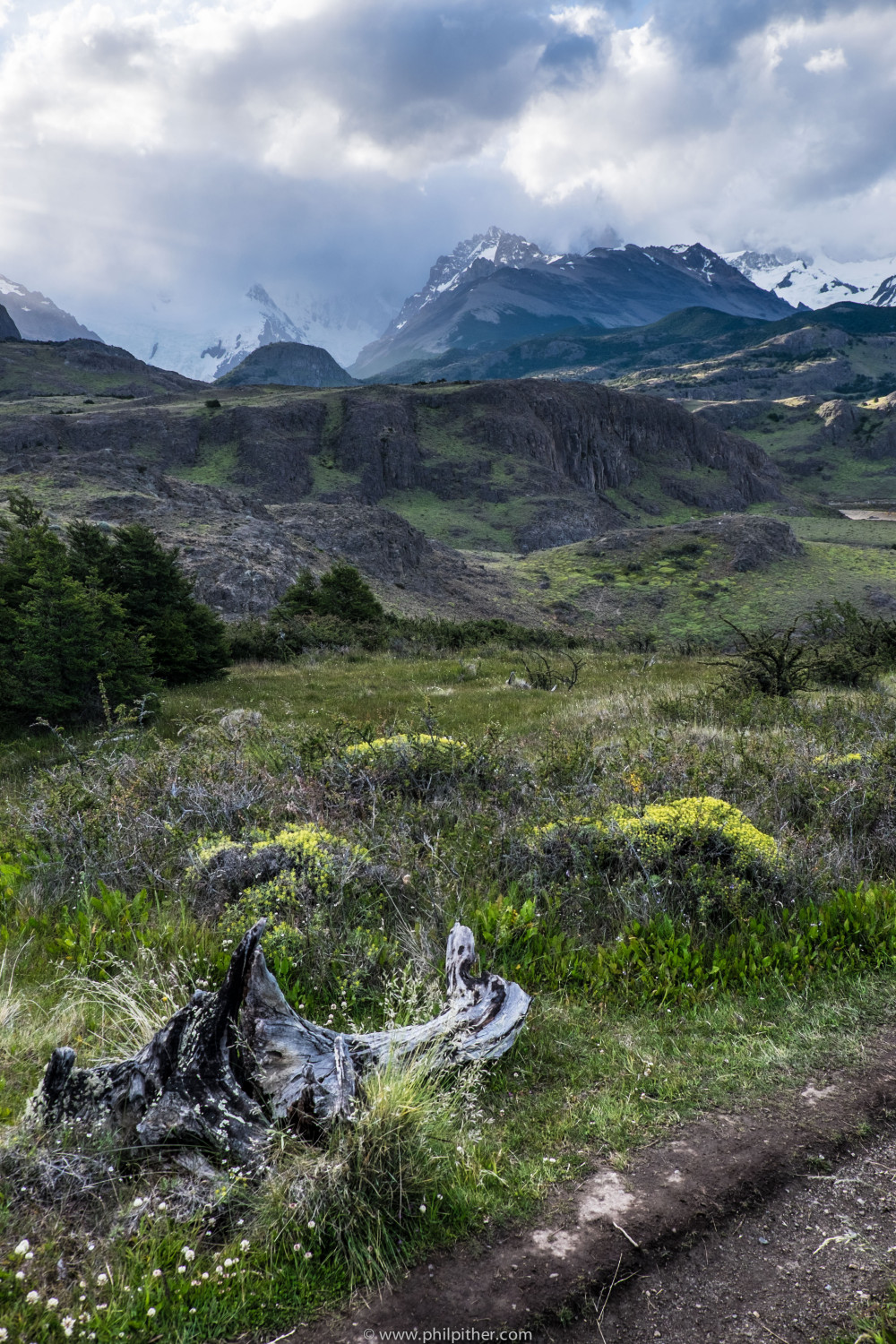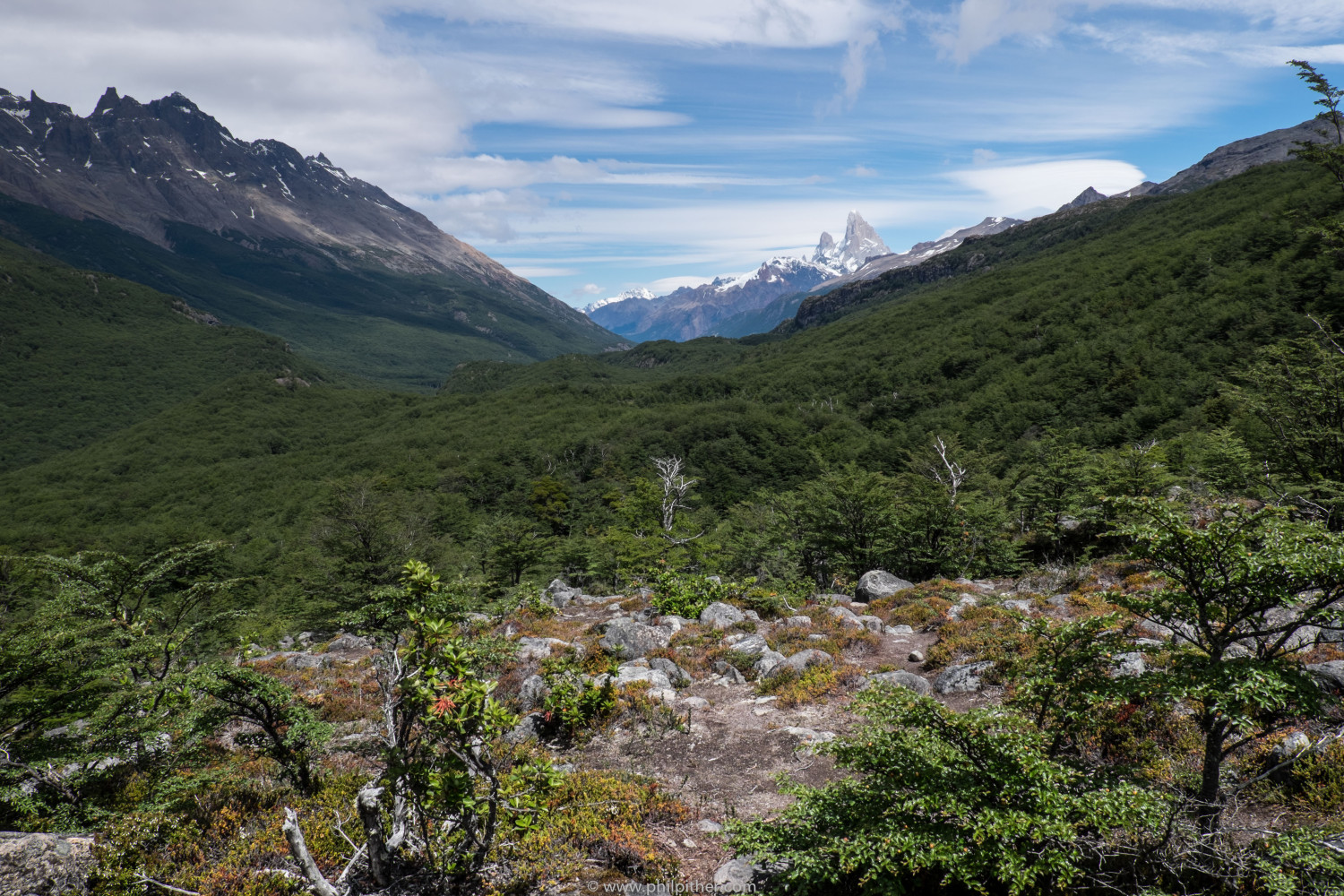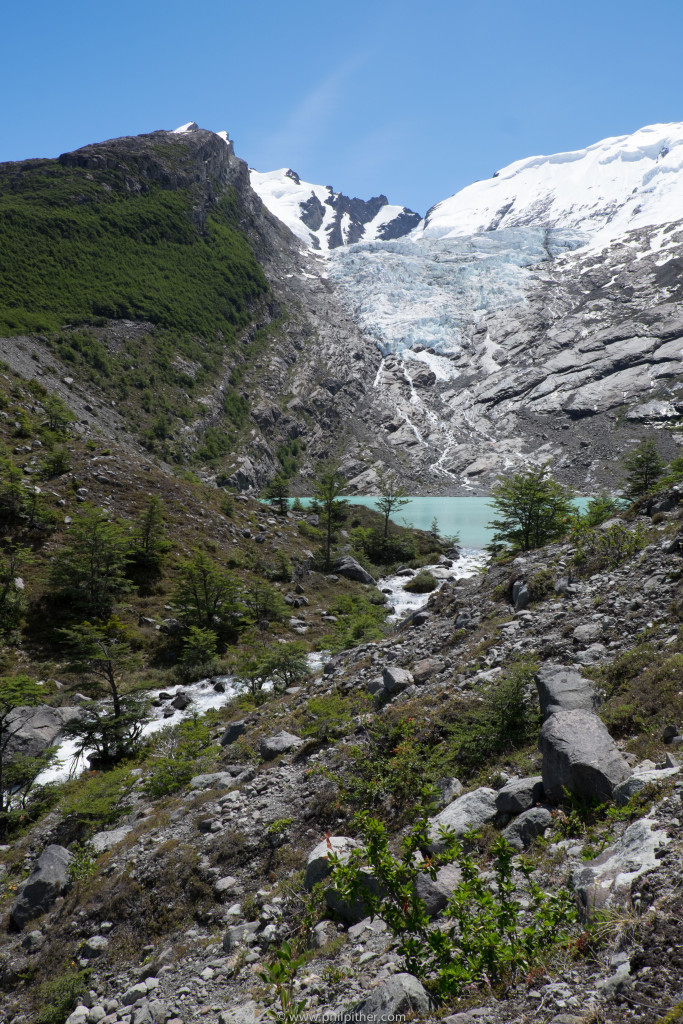 No photos from El Calafate or the Pireto Moreno glacier – had too much fun watching massive chunks cracking & crashing from the glacier face. El Calafate – nice town, nice accommodation and food but not too many obvious photo opportunities for me.
Torres Del Paine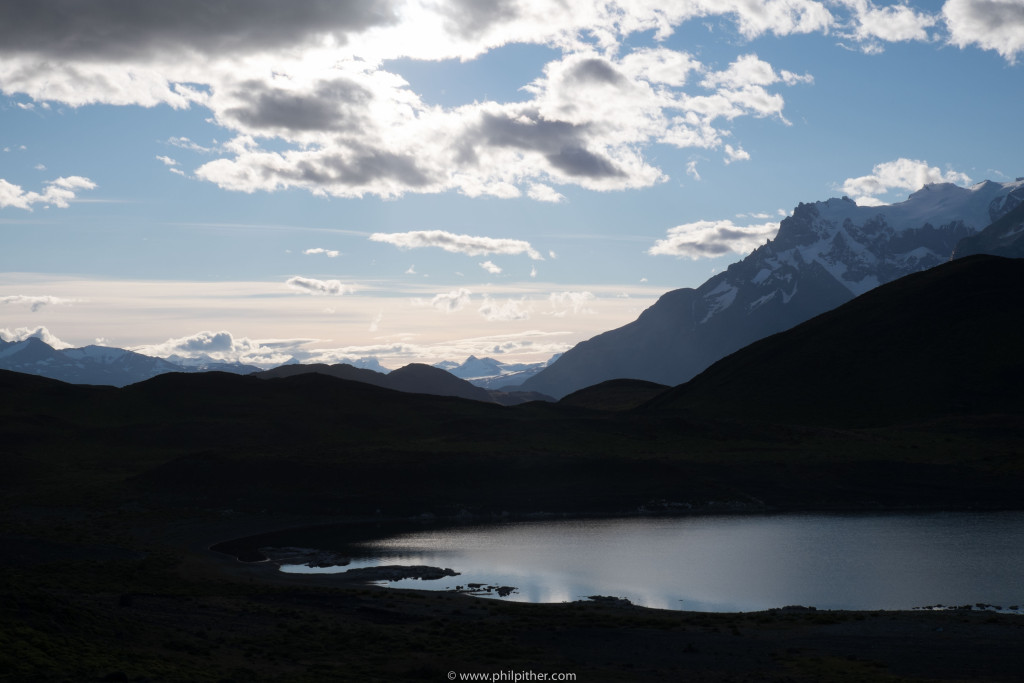 The goal of the trip and great to go from guide books and maps to the real thing!
There are 3 common treks in Torres Del Paine collectively referred to as the 'W' plus a less popular trail 'the circuit' which includes the W and much much more.
We chose to travel between the legs of the W via rental car – first stop at Hotel Las Torres to walk to the Torres viewpoint(leg 1 of our W), back to the hotel and drive to the Lake Pehoe Ferry  for an overnight at Refugio Pehoe and do as much of the French Valley trek as we could(Leg 2) then back across Lake Pehoe and drive to Lago Grey where our last W leg consisted of a ferry trip to Refugio Grey, camping overnight, kayaking and a glacier walk(which unexpectedly included a strenuous 1 hour clamber over broken rock to the glacier and then back of course).
2 lessons learnt – it is very easy to trip over yourself when wearing crampons – luckily no major damage done and a trekking company's '45 minute walk' isn't always as you might imagine it.
Leg 1 – Walk to Mirador Las Torres.
From the hotel there is a steady climb(400m approx) to where the photo below was taken – followed by many ups and downs and a final up hill to the Mirador(viewpoint) around the corner in the distance. Total return distance of 18km and altitude gain for me of 680 metres(a bit more for my wife as she walked all the way to the viewpoint).
Despite the trail seeming busy there are actually only 2 tiny dots visible ahead from here.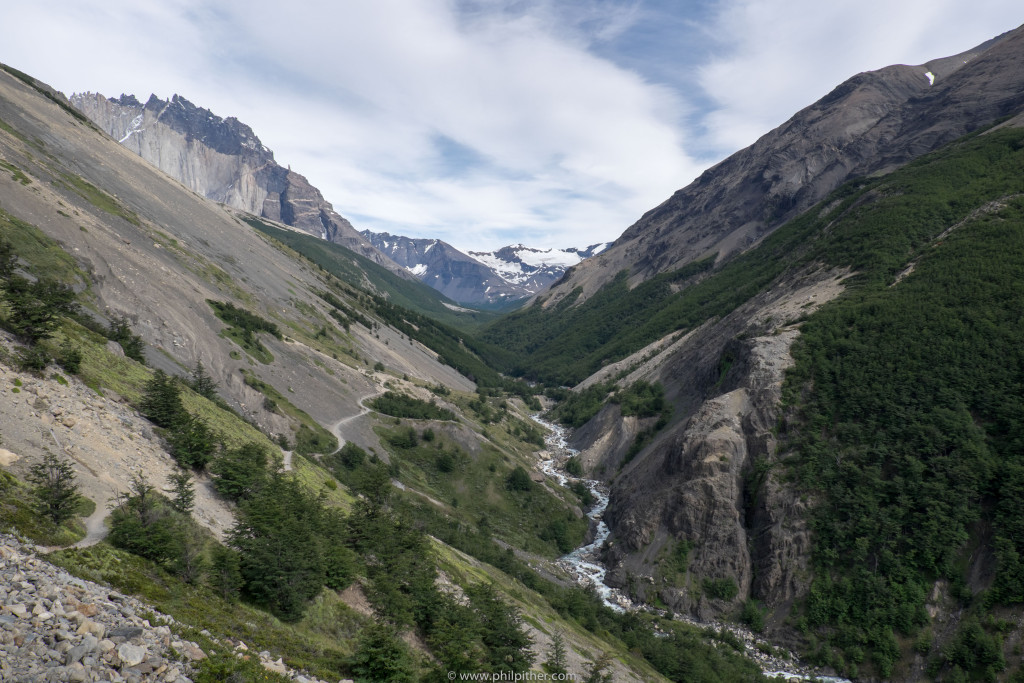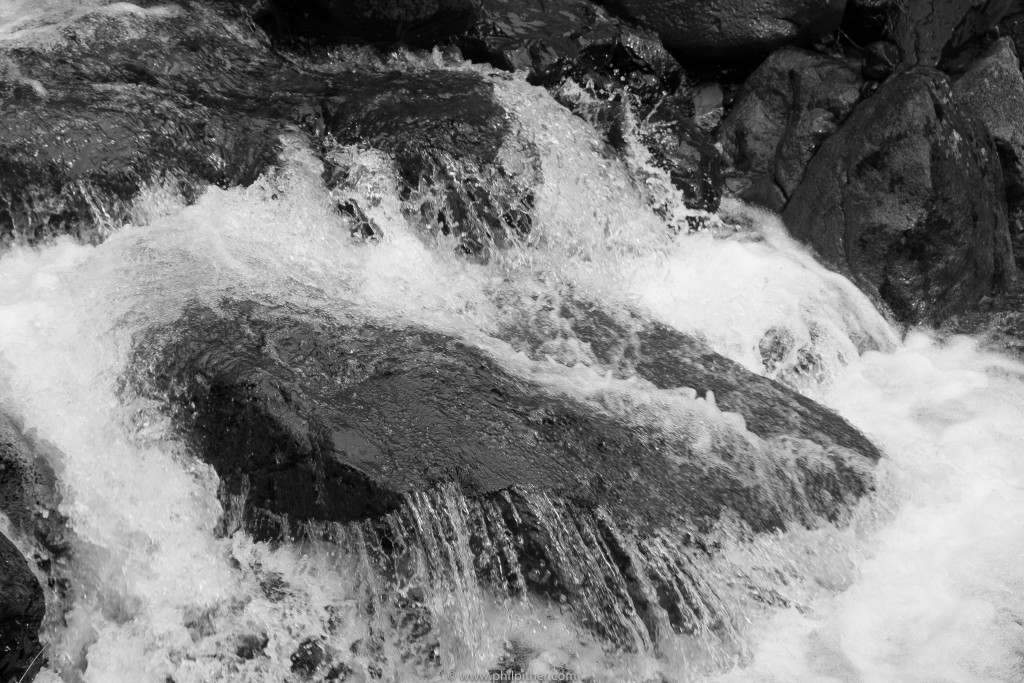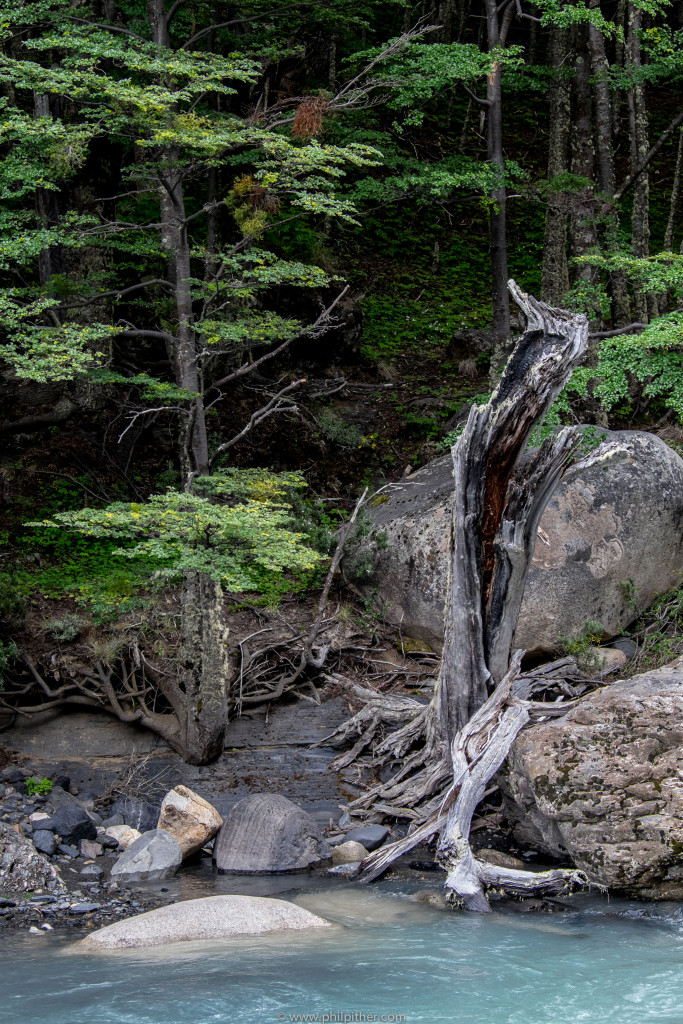 I have a soft spot for rotten, fallen and decaying things.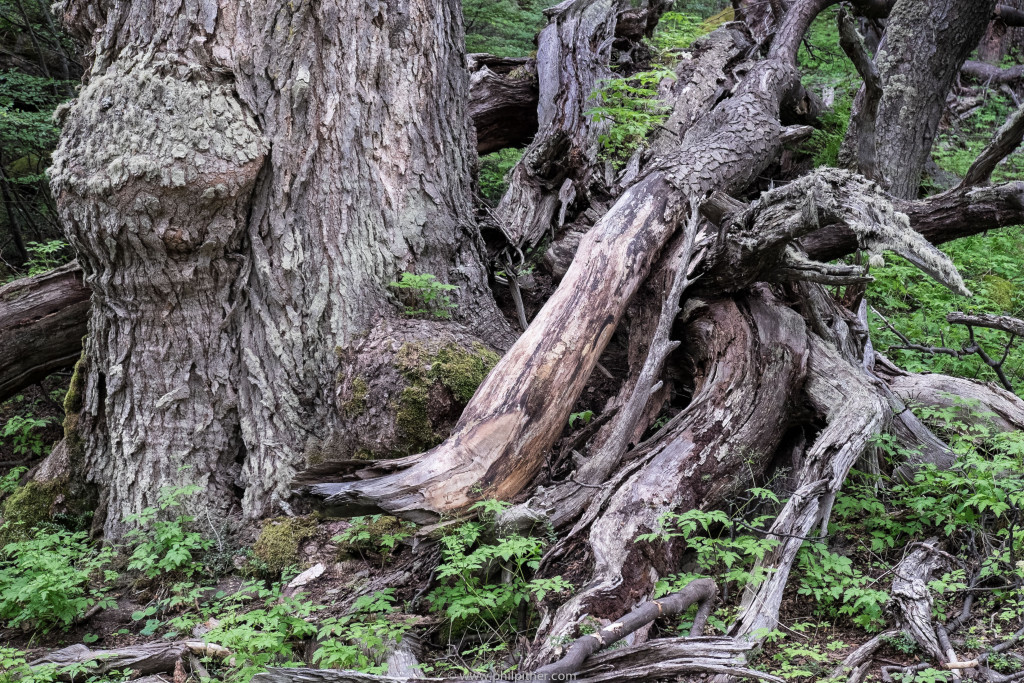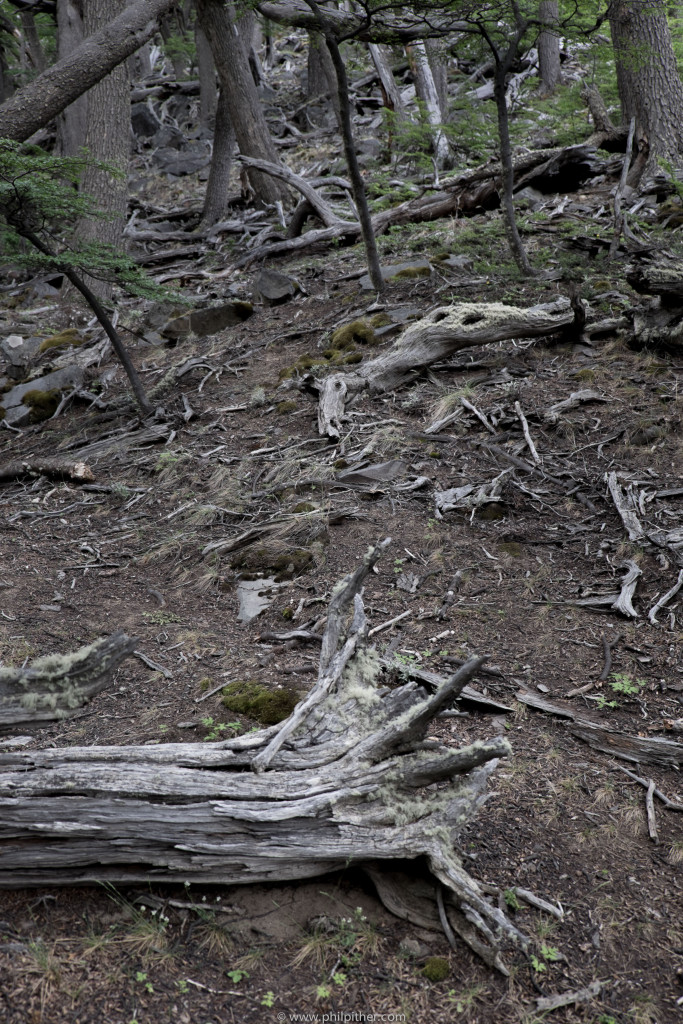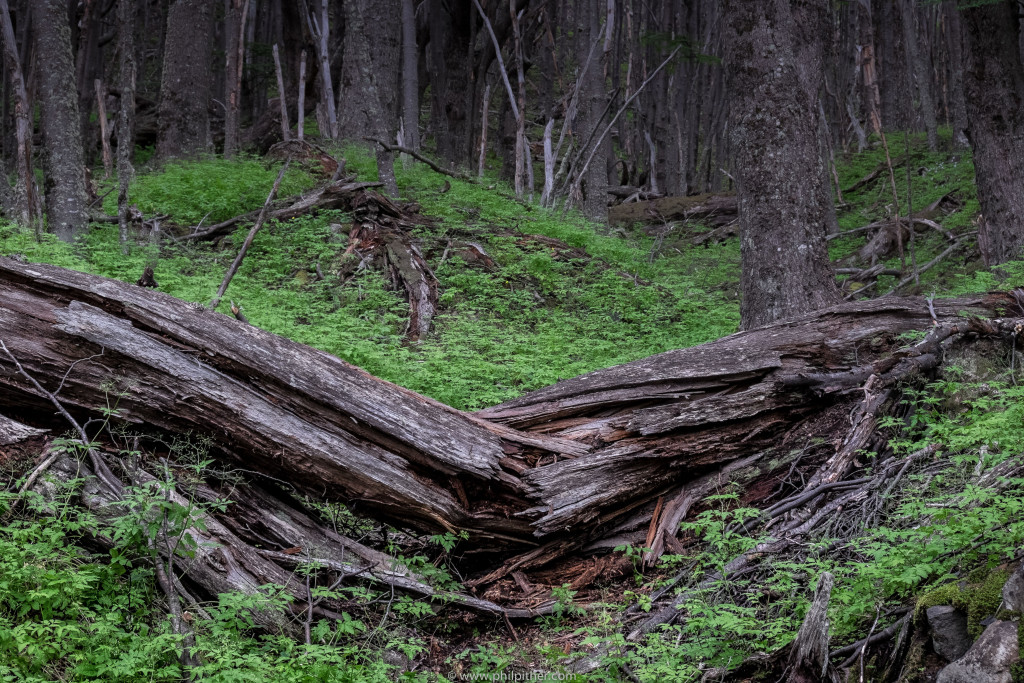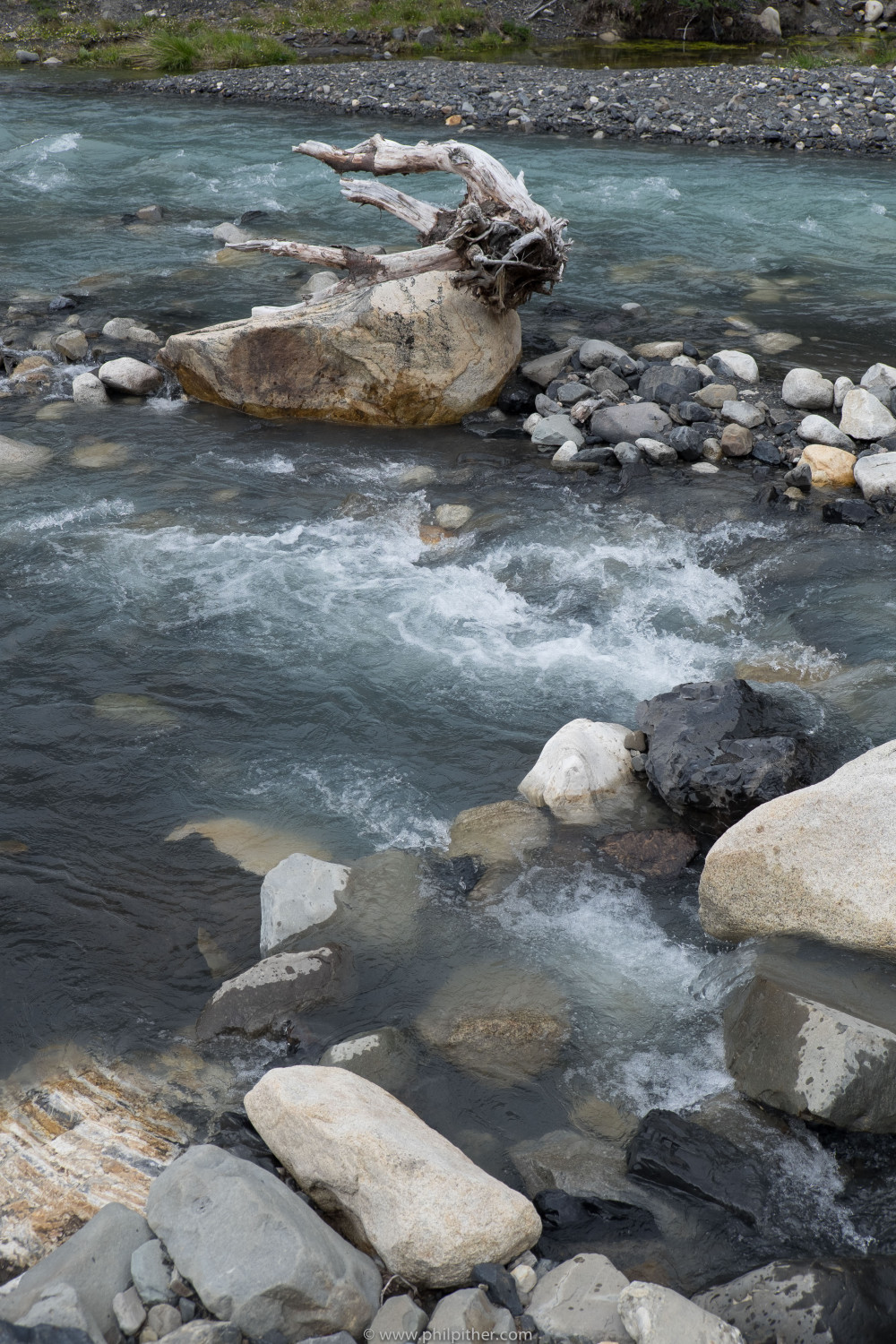 No photo from the viewpoint? The last '45 minutes' looked like a killer and I wanted to enjoy the trip back to the hotel without risking a twisted ankle etc etc. So my wife carried on to the top(we stayed in touch by walkie talkie) while I had a nap in the sun before a leisurely walk back to the car. My wife, on the other hand, hurried back to ensure we met the Lake Pehoe ferry  had one fall and broke her trekking stick – but no injury other than to pride.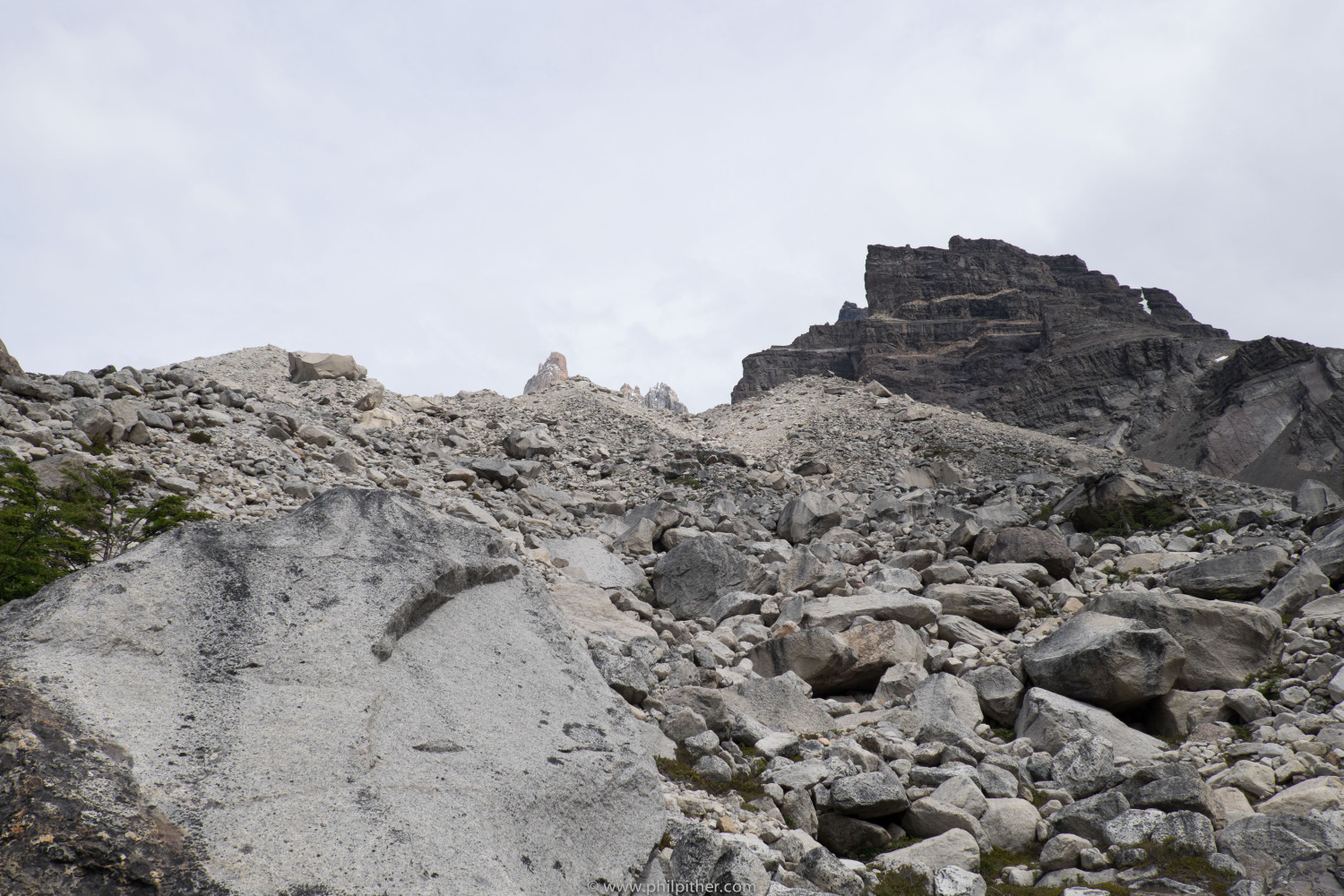 I had hoped a few tiny figures would be visible in the photo on the ridge but no luck – it is steep!
Las Torres are just peaking over the ridge in the middle.
Leg 2 – Refugio Pehoe to French Valley
A quick drive from Hotel Las Torres got us onto the Lake Pehoe ferry on a perfect afternoon.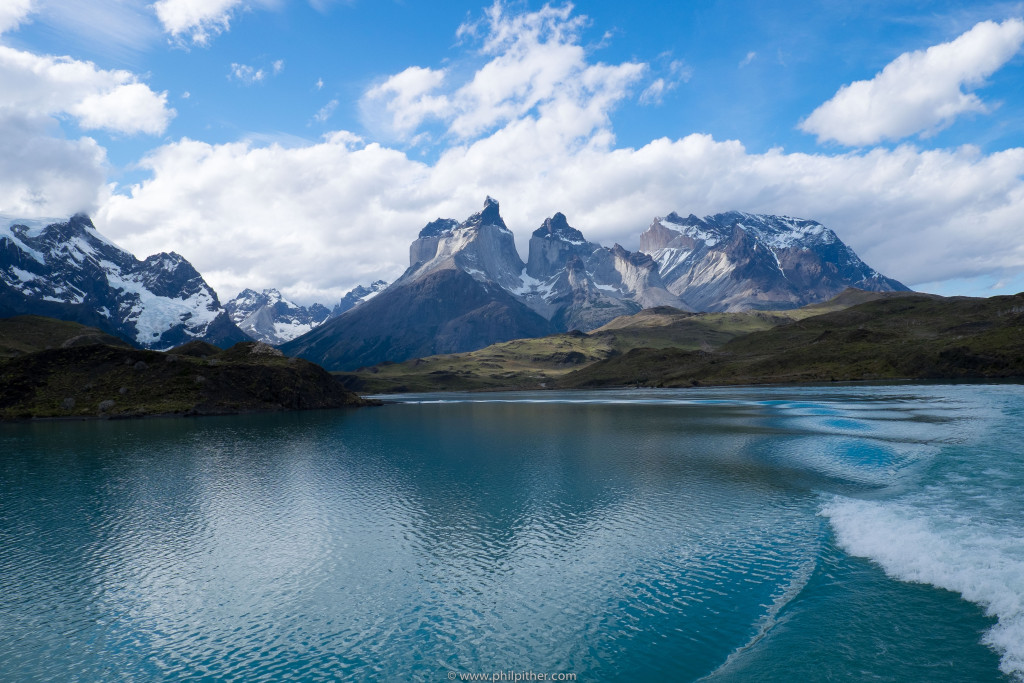 The return trip the following day revealed a very different Lake Pehoe – blasts of cold wind, horizontal rain and white caps with the passengers huddled inside the cabin and one person, who had been blown over by the wind, just behind where photo below was taken, in the centre of the cabin on a stretcher with a broken leg – hopefully with travel insurance!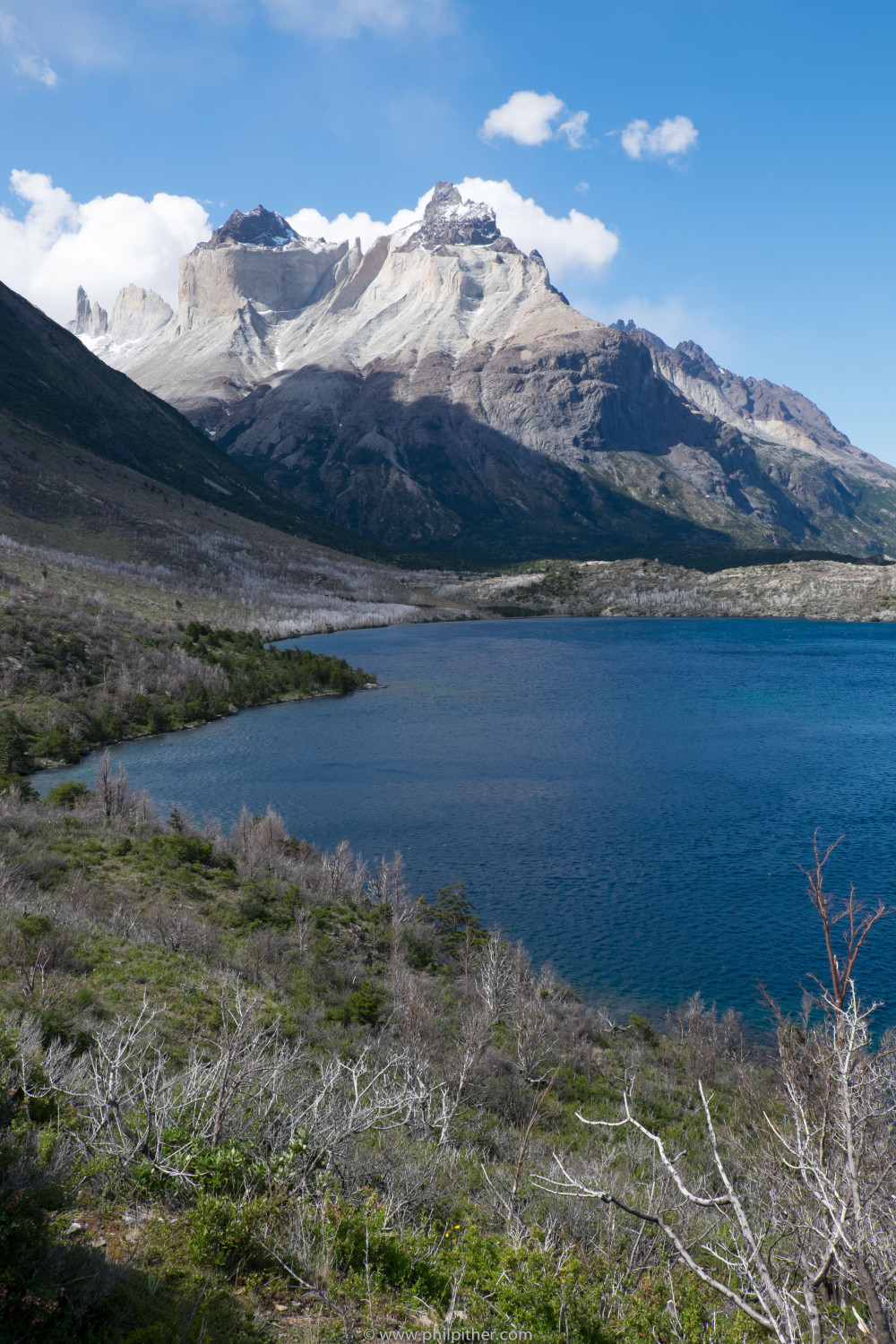 On the return walk the wind roared around us, occasionally turning the lake into a white froth and sending small tornadoes slamming into the bare trees. A larger tornado started a whirlpool in the lake before in turn rushing off into the trees. No photos sadly – our focus was on staying upright, hanging on to hats and enjoying 'shock and awe' Patagonia style.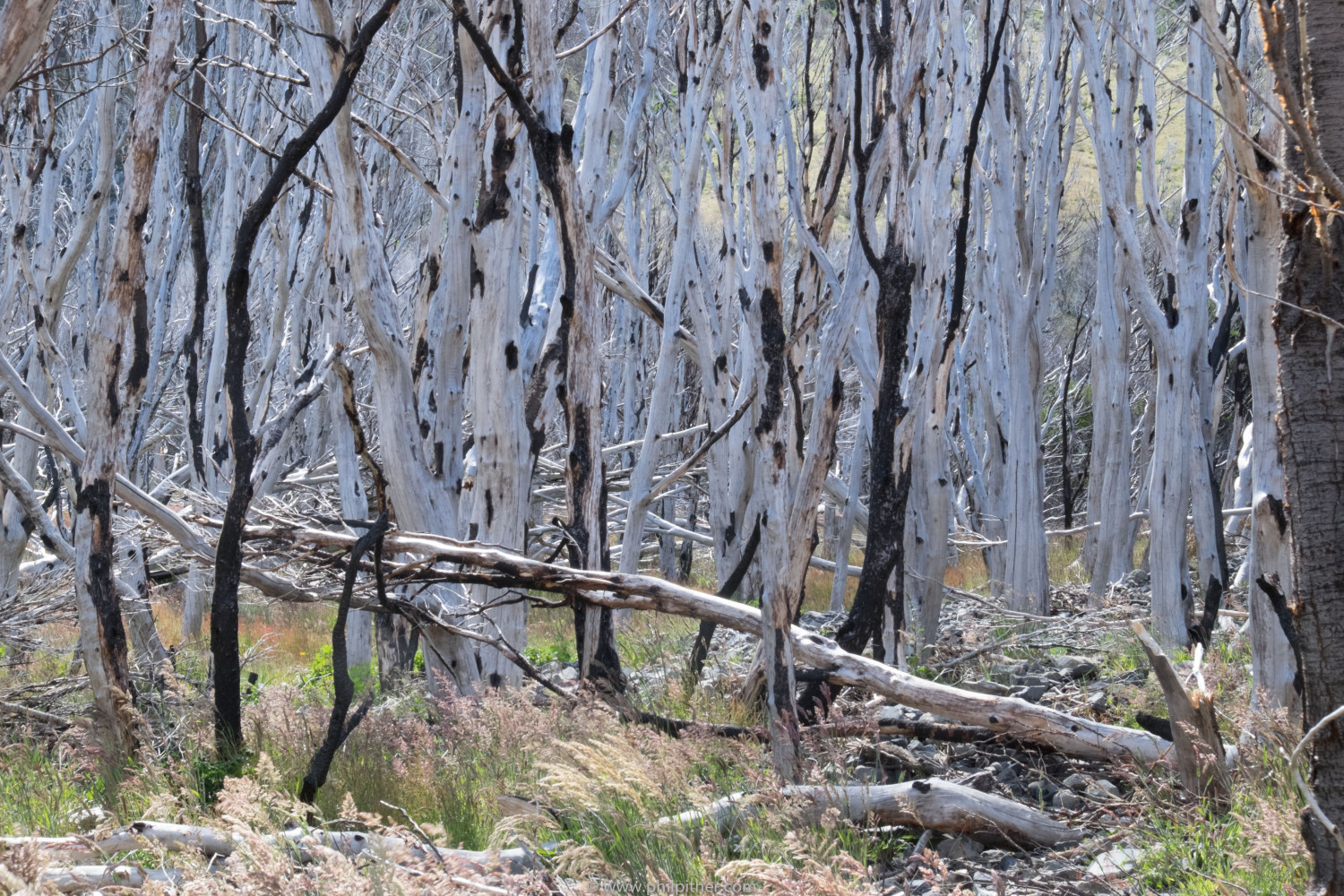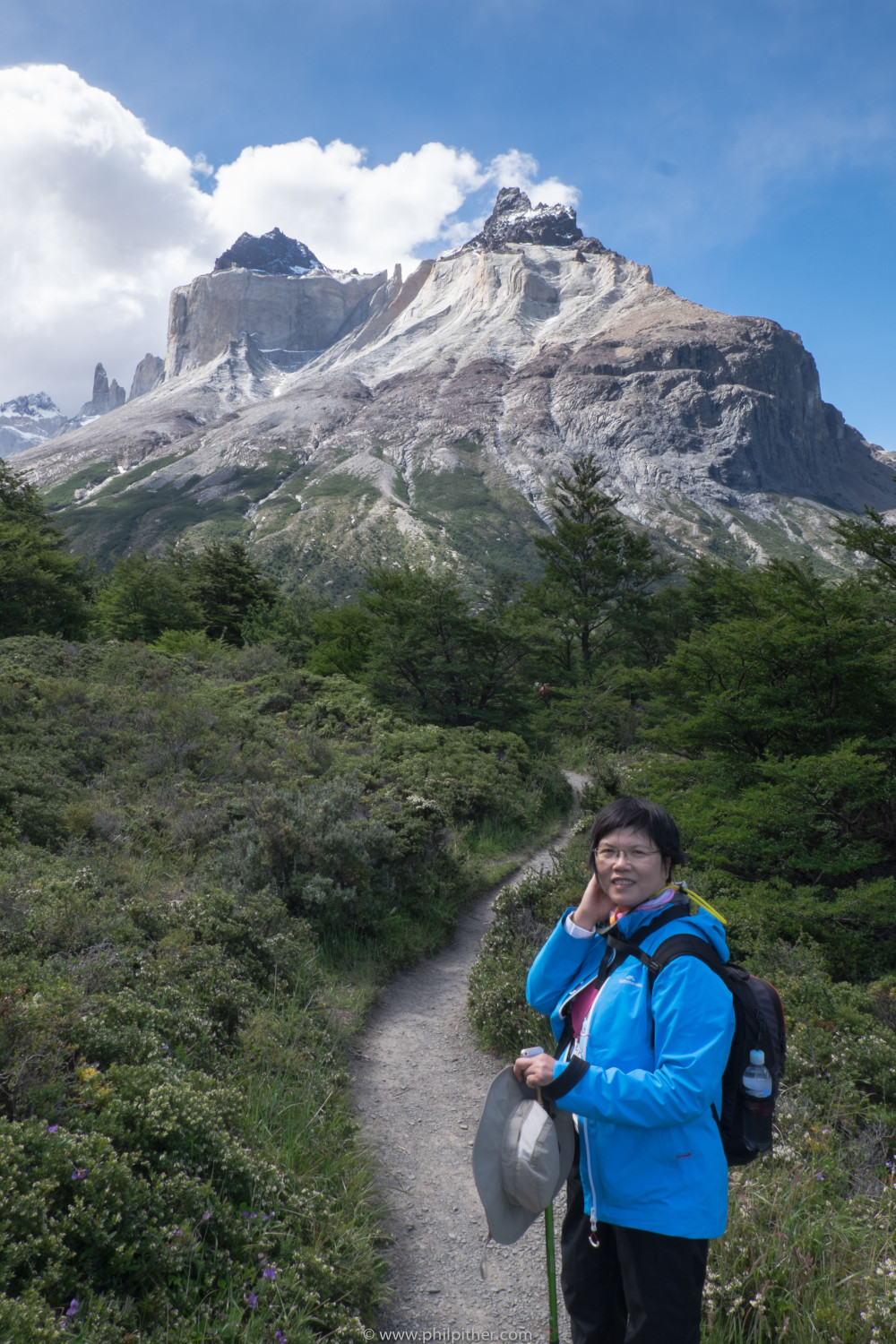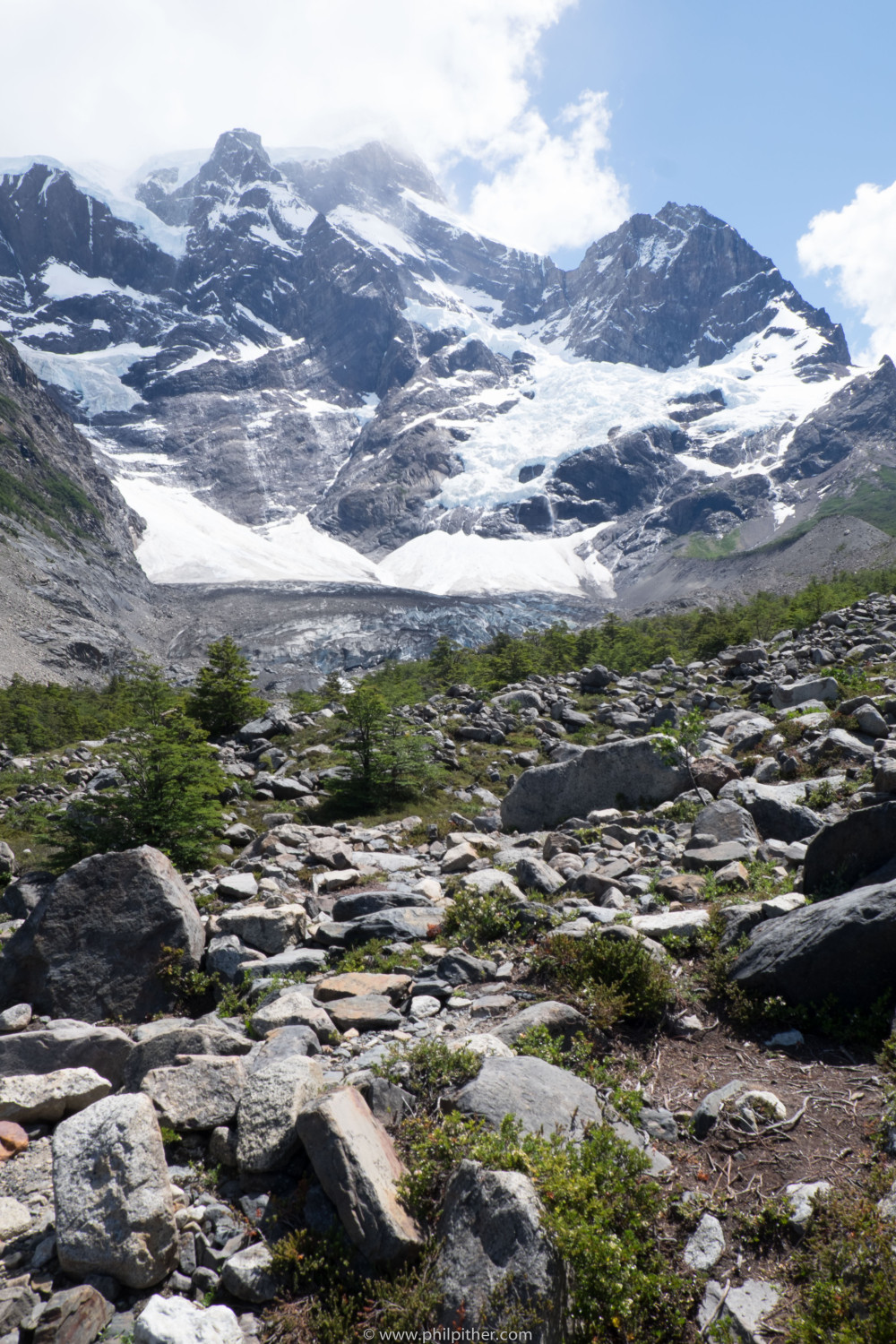 Having reached the first viewpoint we were concerned about getting to the return ferry in time – so that was it for French Valley – time for a very windy trek back to the Refugio Pehoe and waiting in  the ferry queue in horizontal rain.
On the other side – I don't recall ever being so excited to see a car – we walked quickly to the car jumped in – motor on and heater turned way up.
Time to look back at the return ferry – looked like many of the passengers had no idea what  conditions awaited them at the Refugio and Trail.
A few were turned back, the ferry was full.
Leg 3 – Lago Grey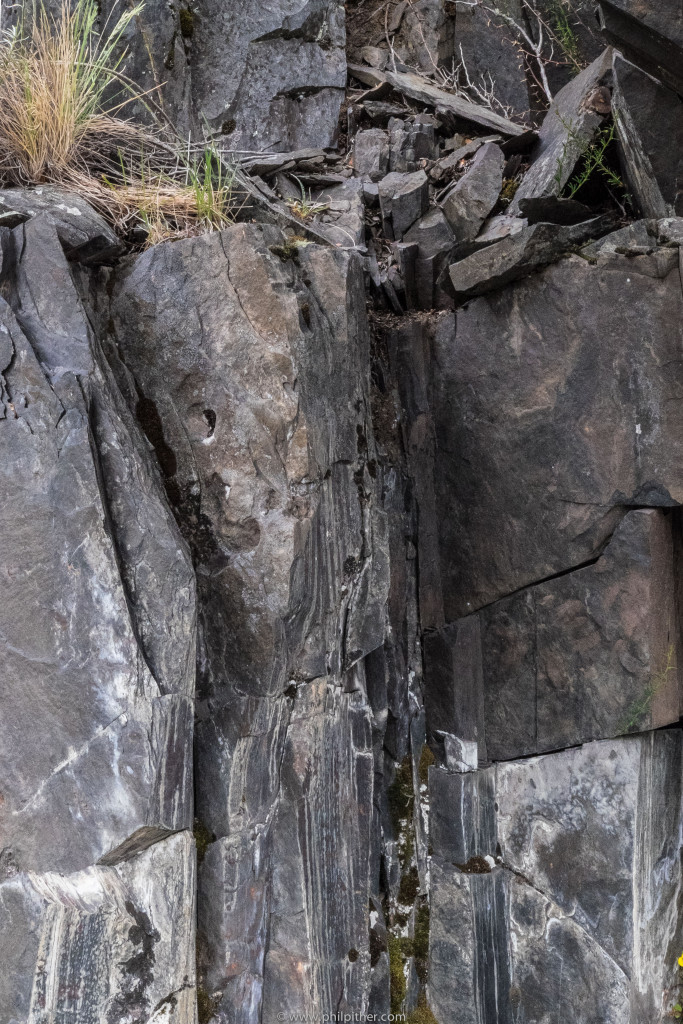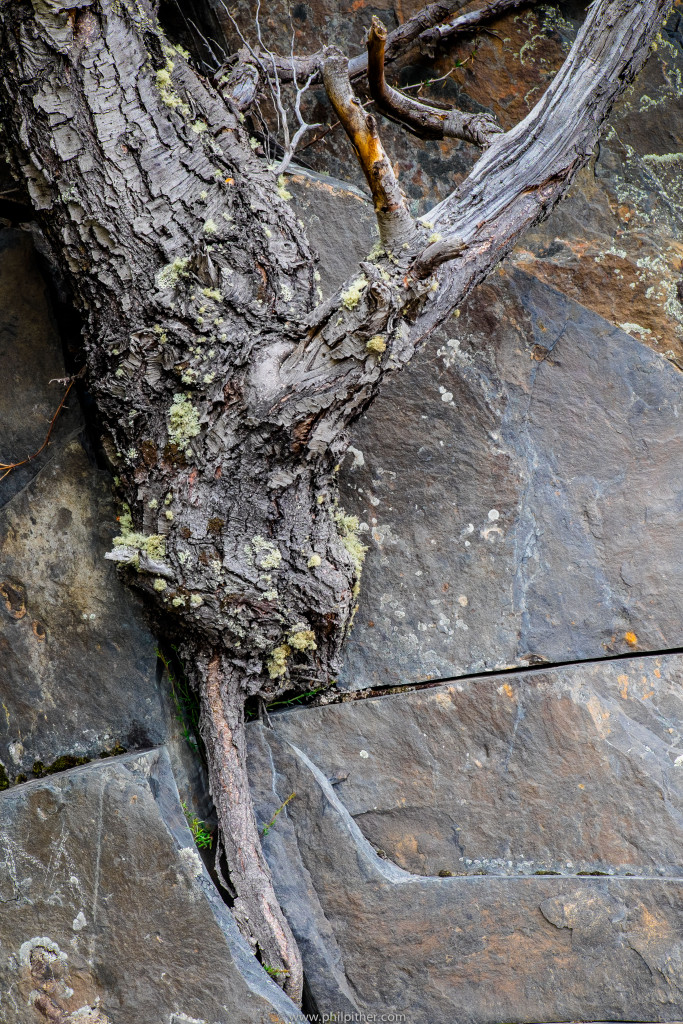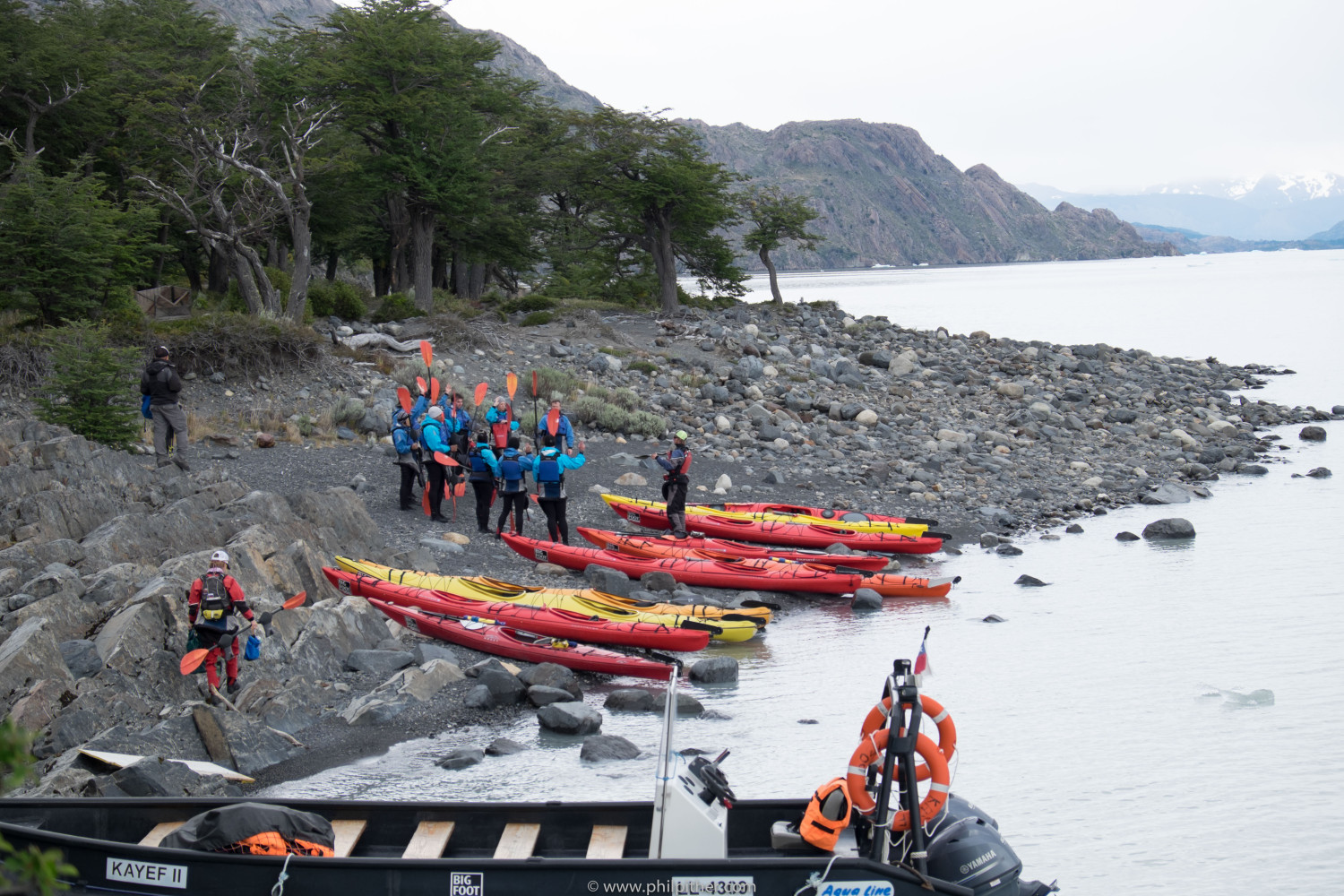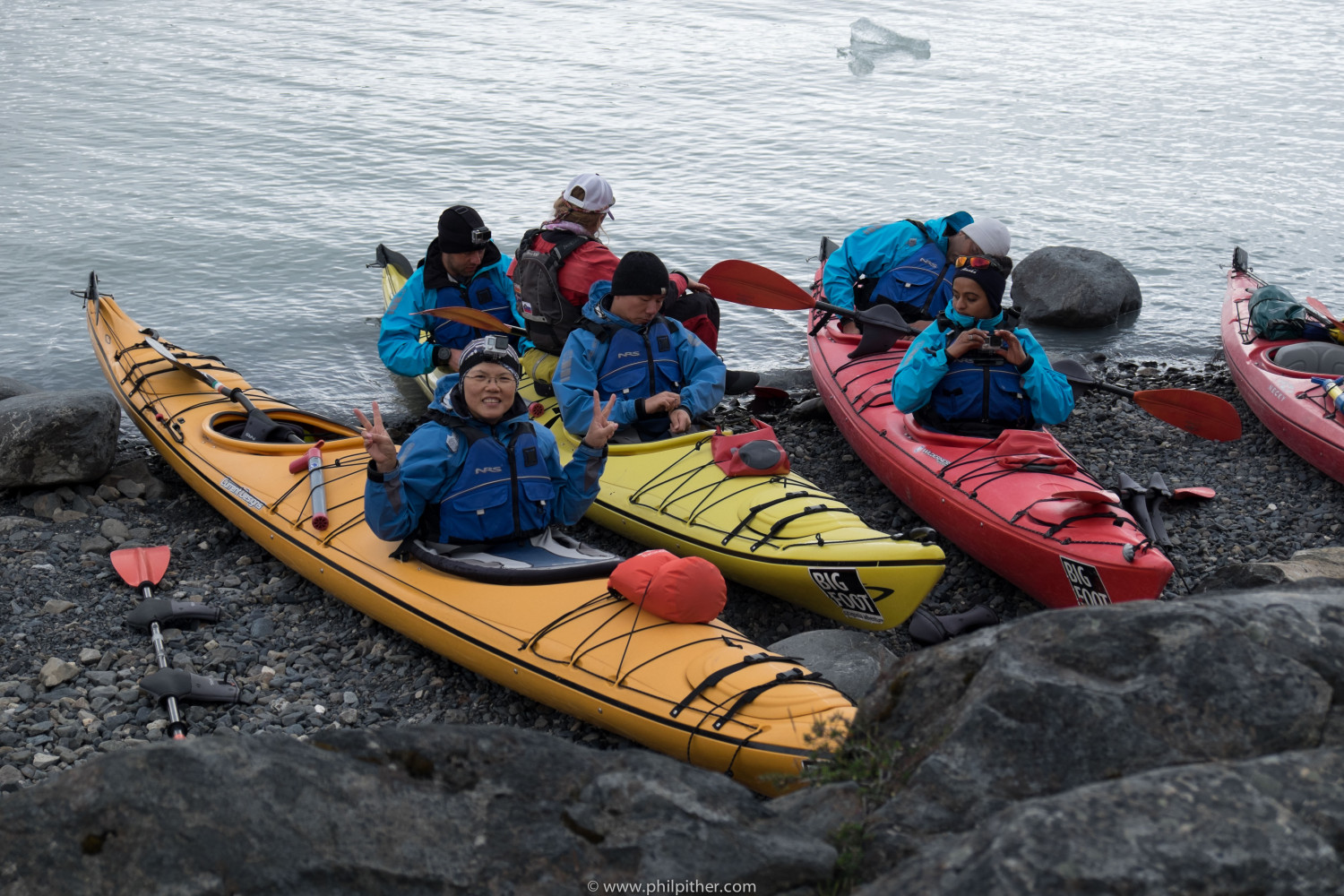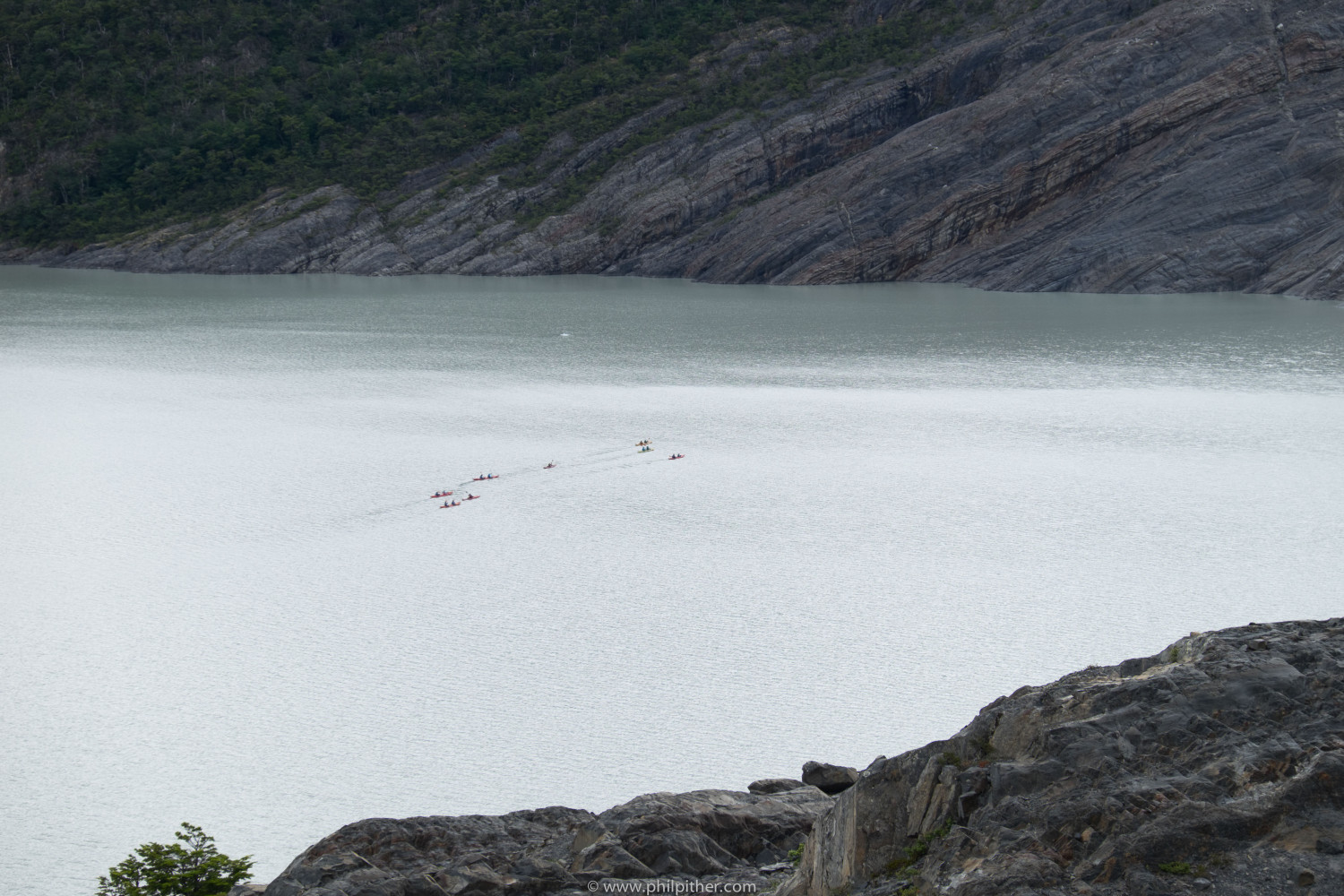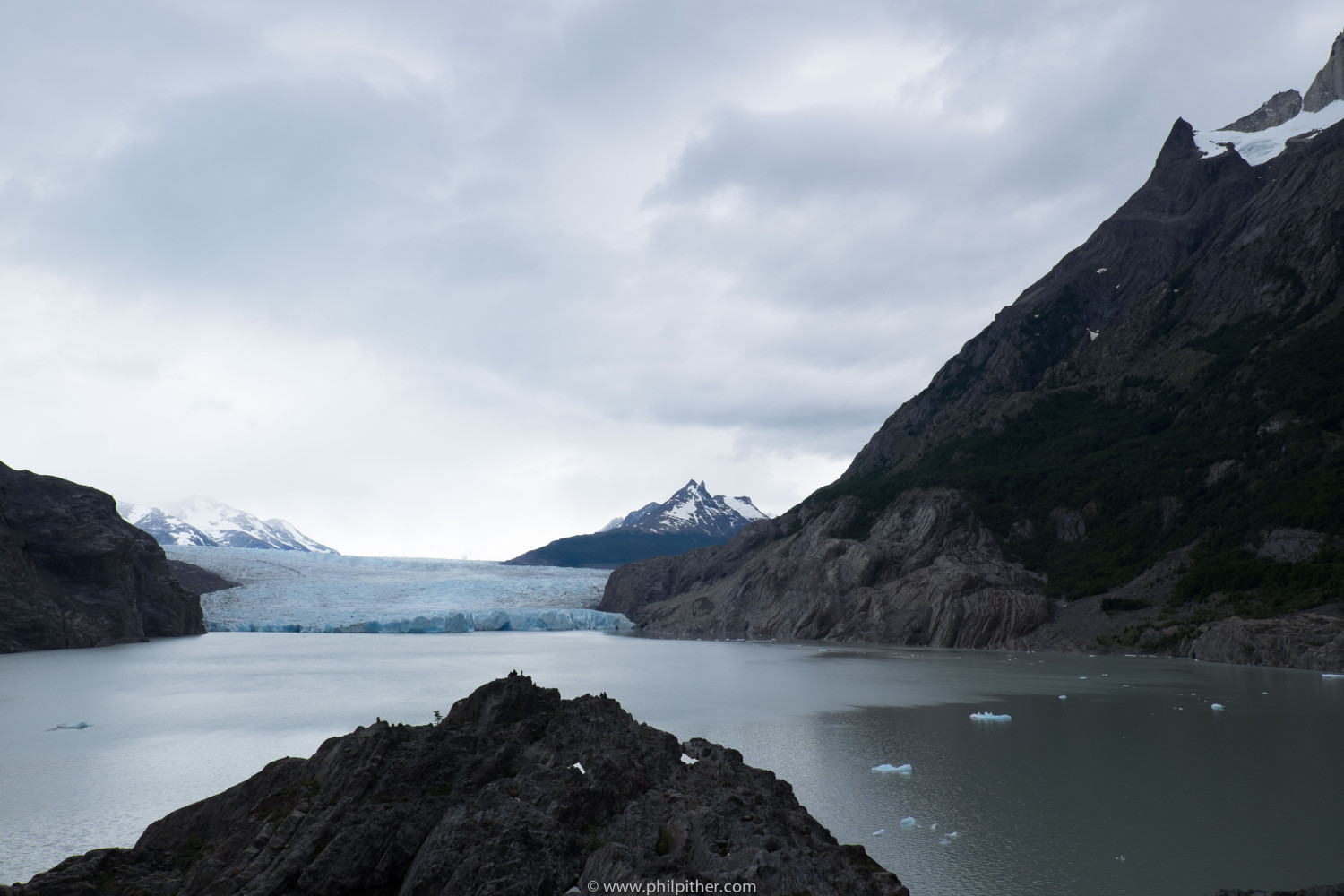 On return trip infection returned so off to outpatients in Santiago – tests, much head scratching by doctors – opinion – infection which was accompanied by a large bill – different antibiotics, which worked this time.